TIME FOR A NEW REFRIGERATOR
Looking into buying a refrigerator? Here's all you need to know to help you make an informed decision.

Just like any other major household appliance, you may think of, buying a new fridge has also become so much of a mission with so many options to choose from. Refrigerators now come in different styles, colors, sizes, with some just a little more advanced than others. Some of them even come with alarms to warn you if you have left the door open or when the temperature has risen or fallen beyond normalcy. Technology never seize to amaze!

Firstly, Style
When buying a refrigerator, Firstly, you will need to decide what fridge style you want. Luckily, there is a configuration to fit every household. By style, we simply mean;
Side by Side fridge
,
Bottom Freezer
,
Top Freezer
, French Door refrigerator,
Upright Full Freezer
,
Fridge only
or a
Mini Bar Fridge
. We can probably fit in color and material in this connotation too. Most common ones being the traditional white, steel, black and black stainless steel. For a modern and sophisticated look, one would go for the black stainless steel refrigerator. The steel one is also considered to be an easy one to maintain and is also durable. However, if you are looking for a budget fridge, white is always the least expensive.
Here are a few of the styles in detail:
French Door Fridges
are a combination of the side-by-side design and a bottom freezer. These are among the most expensive models, as they give users the best of both worlds. They have wide shelves in both sections thus providing enough space to store anything from platters to pizzas.
Available in a range of designs, with some featuring three doors and others featuring four. Most models feature extras like water and ice dispensers and through the door access.
These fridges are elegant and aesthetically pleasing. The ones with narrow doors are much easier to install and take up less space. Four-door models have adjustable cooling areas to deliver the best performance.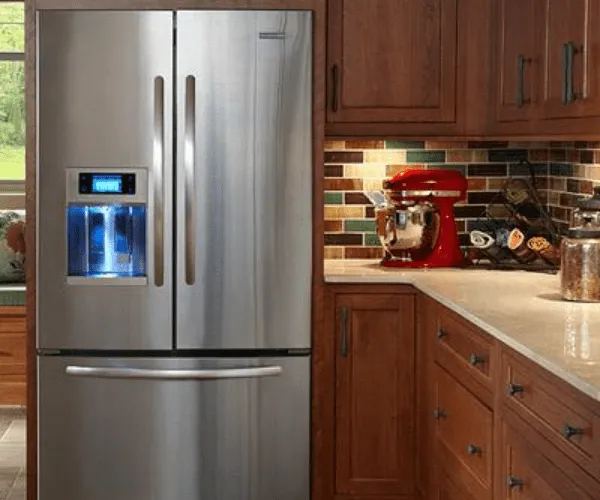 Counter-Depth fridges have a shallower profile than standard depth fridges. They blend in with built-in cupboards and cabinets creating an exquisite seamless look. Most take up less space, thus generally offering less storage space for your food. They also tend to be more expensive than their standard depth counterparts.
Compact Fridges are miniature versions of the traditional refrigerator, perfect for compact spaces like dorms or home offices. Most have little to no freezing capacity, while some come with a small freezing compartment. Some designer compact fridges come with separate freezing compartments like full-size fridges.
Freezerless Refrigerators
are fridges without a freezer compartment as the name suggests. The entire unit is used only for cooling fresh foods. A great option if one has a full-sized chest freezer for frozen goods or if one does not need to freeze a lot of food. Freezeless fridges are most suitable for office environments.
Refrigerator Drawers are installed under one's kitchen countertop, more like a dishwasher. Fridge drawers are often seen in luxury kitchens and are fairly expensive. They cannot keep food frozen and are not energy efficient so basically, they are just a style statement.
Wine/Drinks Coolers
are exactly what the name suggests, alternatively called cellars. From basic, compact models to elaborate, full-size refrigerators with enough space to store hundreds of bottles. Top-of-the-range models have just a multi-zone digital temperature regulation to adjust to different beverage-cooling needs.
Size & Capacity

Secondly, you will need to consider the fridge size. For size, firstly measure the area where you plan to put the refrigerator allowing room for the refrigerator's doors to swing open leaving at least one-inch(2.54cm) clearance around sides and back for adequate airflow. It's also important to check that the size of the refrigerator you pick can fit through your doorways.

Thirdly, consider the fridge capacity that best suits your needs. Consider your family size. Is the fridge for 1 person, 3 people or a family of 6 or more? How often do you do your grocery shopping? Once, twice a month or every other week? All these factors will determine whether you should go for a 665l, 491l, 370l or a 280l. There is a perfect capacity for every household.

Energy Consumption

The South African Bureau of Standards (SABS) introduced a product labeling standard for electrical and electronic appliances. This assists the consumer when making a purchase. On the good side of things, most if not all refrigerators are now a lot more efficient than they were about ten years ago. Energy star rated fridges are the way to go. Not only are you doing your bank account a favor but the environment too. Everybody wins!

Features to consider when buying a refrigerator

When it comes to refrigerator features the innovation also keeps getting better and overwhelming. However, to uncomplicate the buying process, below are the most common features you can look out for when shopping for a fridge.

A frost-free fridge will be the most ideal fridge to go for. If I were to be asked to choose only one feature, this would be it. This feature saves from the whole defrosting hassle as it prevents ice from building up in the fridge thus a much needed easy clean-up process.

Speed chilling & Fast Freezing ensures that food chills at a faster controlled to your specifications rate. The fast freeze function will make your foods freeze quicker as well.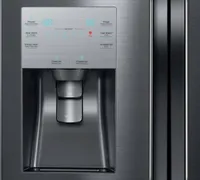 Through-the-door Ice and water dispenser – As much as these are for your convenience, the bigger they are the lesser the storage room for your groceries. The Ice and water dispenser ensure that you always have easy access to your water and ice when needed.
Temperature controls – some fridges now come with separate temperature controls for different compartments of the refrigerator.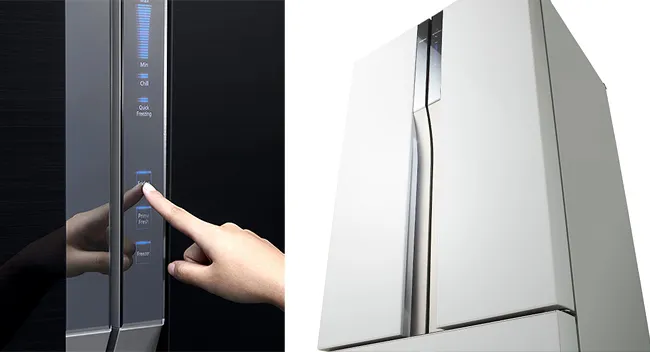 This is quite convenient, let's say you want the temperature for your fruit and veg different from that of your dairy products, but not really necessary if I may say so myself.
Door-in-Door Storage access – Some of the latest fridges now come with an extra door on the front of the fridge that opens up to reveal the in-door shelves without having to open the entire door. This provides quick access to your drinks and condiments. Some, however, actually have a plastic seal separating contents on the outer compartment to those in the main fridge.

Shelves and Drawers - When buying a refrigerator, one would also consider the shelves and drawers the fridge comes with. The more the shelves the better. Means your food will be in a much more organized manner. Transparent shelves and drawers are always better than opaque ones as you can browse through the contents in the drawer without having to be close up or open it.

Glass shelves are also preferable to wire ones as these prevent food and meat juices from dripping onto other foods that may be in shelves beneath. Some fridges also come with wine coolers and wine racks.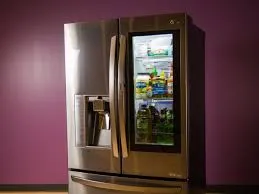 Smart Fridges can actually connect to the internet, how crazy is that! With the LED and giant touchscreen, they come with, you can actually get to create a food management system where you can store your grocery shopping lists and keep track of your food. Other than that, these also provide entertainment, as you can actually screen music direct from your fridge. The kids will love it. That's direct entertainment straight from your fridge.

Freshness Features such as dual evaporators will keep your food fresher for a much longer period of time.
Conclusion
Thankfully, our team of expert
buyers
has done all the homework for you. They have traveled the world, ensuring that we stock not only the best from the biggest brands but at a great price too. If you find a fridge for cheaper somewhere else, let us know and we will beat that price for you.
Enjoy the latest in
refrigeration
technology from brands like AEG, Bosch, Defy, Grundig, Hisense, KIC, LG, Samsung, Siemens, Smeg, Snomaster, and Whirlpool. There is something for everyone, whether you are looking for one with or without a water dispenser/ice dispenser, Tafelberg Furnishers is your one-stop-shop.